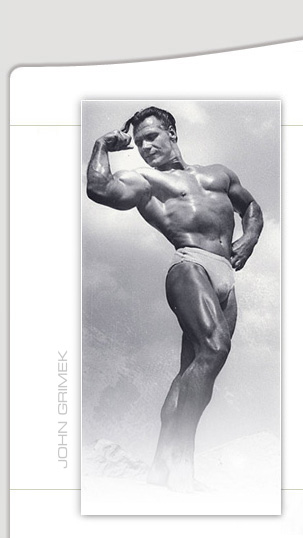 All pictures on this website were taken from the internet, submitted to us from fans or bodybuilders featured in this website with their permission, not for profit but with the only purpose being to support our Stars of Bodybuilding. Have you a John Grimek photo? Thank you for helping us to increase our gallery!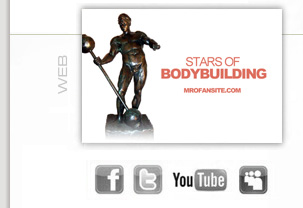 About John
Born: June 17, 1910
Died: November 20, 1998
Birthplace: Perth Amboy, New Jersey, USA
Height: 5' 8" (175 cm)
Weight: 195 lbs (89 kg)
Chest: 47"
Arms: 17,5"
Waist: 31"
Thighs: 25"
Calves: 17"

Mr. & Masters Olympia Results
Never competed


Titles Won
1939 - York Perfect Man
1940 - Mr. America
1941 - Mr. America
1946 - Most Muscular Man In America
1948 - Mr. Universe Short & Overall
1949 - Mr. USA

John Carroll Grimek is the only man ever to win the AAU Mr. America title more than once. His wins in 1940 and 1941 were so overwhelming that contest organizers from then on implemented the single-victory rule.
Grimek exhibited a Herculean visage and was as strong as he looked - evidenced when he represented the United States as a weightlifter at the 1936 Olympic Games in Berlin. In 1948, at 38 years of age, Grimek beat the young sensation Steve Reeves at the NABBA Mr. Universe in London.
A year later, in his last contest, the AAU Mr. USA, he beat Reeves again - as well as Clarence Ross, George Eiferman and Armand Tanny - and retired from bodybuilding competition undefeated. Expert at controlling his muscles and agile in acrobatic posing moves, he possessed extreme power; he was still able to squat with over 400 pounds for reps well after retirement age.
With his combination of proportionate bodylines and raw power, John Grimek served as the perfect hybrid between the pre-war "bodybuilder as strongman" genre and the modern "one sport only" bodybuilder.
John passed away on November 20, 1998, and will forever be remembered for his philosophy of life - always keep your focus on good health as the primary motivation for your toil, and build muscle the old fashioned way - earn it by hard work and dedication.
| | |
| --- | --- |
| | Hall of Fame 1999 IFBB: John Grimek - We are honored to celebrate with you the enduring achievements of those who truly made a memorable and lasting impact on our sport. By Joe Weider. |
| | The Classic Collection #1 - You'll see Bob Hoffman one arm lifting and Otto Arco performing his famous muscle control and balancing act. Not to be missed, the muscle control and legendary posing of John Grimek. Also muscle control by John Farbotnik. |
| | The Grimek Award - This annual prize wich is named after the great American champion of body- building and weightlifting was founded by Biagio Filizola in 1996 with Grimek's authorization in order to honor Italian and international individuals connected with the iron game.... |
| | John Grimek, The Greatest Bodybuilder of All Time - A great article by David Gentle, an internationally recognized Author and Historian of Physical Culture. For several decades, he has been a regular contributor of over 25 of the world's top muscle magazines. |