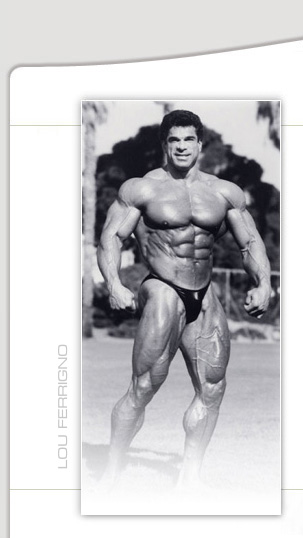 All pictures on this website were taken from the internet, submitted to us from fans or bodybuilders featured in this website with their permission, not for profit but with the only purpose being to support our Stars of Bodybuilding. Have you a Lou Ferrigno photo? Thank you for helping us to increase our gallery!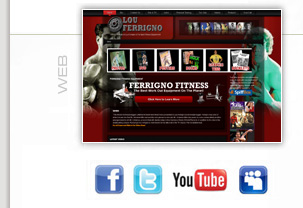 About Lou
Born: November 9, 1951
Birthplace: Brooklyn, New York, USA
Residence: Santa Monica, California, USA
Nickname: Big Louie
Height: 6' 4" (195 cm)
Competition Weight: 275 lbs (125 kg)
Off season Weight: 310 lbs (140 kg)
Arms: 23" (58 cm)
Thighs: 29" (74 cm)
Calves: 20" (51 cm)
Waist: 34" (86 cm)
Chest: 58" (147 cm)

Mr. & Masters Olympia Results
1974 - IFBB Mr. Olympia : 2nd (HeavyWeight)
1994 - IFBB Mr. Olympia : 3rd (HeavyWeight)
1992 - IFBB Mr. Olympia : 12th
1993 - IFBB Masters Olympia : 2nd


Titles Won
1971 - WBBG Pro Teen Mr. America
1973 - IFBB Mr. America
1973 - IFBB Mr. Universe
1974 - IFBB Mr. International
1974 - IFBB Mr. Universe

Louis Jude "Lou" Ferrigno (born November 9, 1951) is an American actor, fitness trainer/consultant, and retired professional bodybuilder. As a bodybuilder, Ferrigno won an IFBB Mr. America title and two consecutive IFBB Mr. Universe titles, and appeared in the bodybuilding documentary Pumping Iron.
As an actor, he is best known for portraying the title role in the CBS television series The Incredible Hulk. He has also appeared in European-produced fantasy-adventures such as Sinbad of the Seven Seas and Hercules, and as himself in the sitcom The King of Queens and the 2009 comedy I Love You, Man.
As a teenager, Ferrigno trained in his home basement in Brooklyn, New York. Ear infections as a youngster caused Ferrigno to suffer permanent hearing loss, but he continued to hear the call of iron and entered his first contest, the 1970 Mr. New Jersey Open Hercules, which was staged in Trenton. Twenty-one men placed ahead of him, but last place would not last long on Ferrigno's agenda.
After several more minor contests, Ferrigno switched to the IFBB in 1973, winning the Mr. America and the tall class of the Mr. Universe in Geneva. The next year, he won the Mr. Universe in Verona, Italy. Then, in the 1975 Mr. Olympia in South Africa, Ferrigno faced Arnold, whose physique he had tried to emulate. Ferrigno came in third, and he was done with physique competitions for 17 years, until 1992, when he appeared in Helsinki, finishing 12th in the Olympia.
In 1993, a final try for the Olympia yielded 10th place, so he switched to the Masters Olympia in 1994, but was edged out by Robby Robinson for that inaugural crown. It would be Ferrigno's last contest. Ferrigno played the Incredible Hulk on television from 1978-1982, where fits of rage would hurl him from quiet to chaotic when his 6' 4" body would explode with green-tinted muscularity.
Other acting appearances have been TV's Trauma Center in 1983 and several movies including Hercules, Sinbad and Cage. Currently, he occasionally appears on the TV show The King of Queens, and he has a role in the upcoming movie release The Hulk. Ferrigno married Carla Green on May 30, 1980. They have three childrens: Shanna, Lou Jr. and Brent
.


















Ferrigno Fitness & Workout Equipment - Ferrigno Fitness Is The Official Workout Equipment of Lou Ferrigno. The World best Workout Equipment. Your ONLY source for authentic Ferrigno Fitness equipment, endorsed by Lou Ferrigno himself!

Stand Tall Collector's Edition DVD - Big Louie's return to bodybuilding is a story of personal triumph, as he faces his fears and Boyer Coe in the "Mr. Olympia" competition at the age of 43.

1973 IFBB Mr. Universe - Lou won this event taking his class and then the Overall title beating such '70s stars as Mike Katz, Ken Waller, Al Beckles and Giuseppe Deiana. I feel that this was possibly the best Lou ever looked in amateur competition. He truly dominated and took...

Hall of Fame 2003 IFBB: Lou Ferrigno - We are honored to celebrate with you the enduring achievements of those who truly made a memorable and lasting impact on our sport. By Joe Weider.

http://www.ifbbpro.com/

Lou Ferrigno Lifetime Achievement Award Video - The Arnold Schwarzenegger Lifetime Achievement Award was presented to Lou Ferrigno by Schwarzenegger. Ferrigno was only 21 when he won his first Mr. Universe title and was the only person to ever win Mr. Universe titles two...

http://www.youtube.com/watch?v=B_nHRsLLHn8

An interview with Lou Ferrigno - Lou is one of the rare few that have transferred their talents into other areas. How many men can be psyched out by Arnold and turn it around to become one of the more revered figures...? Learn about the life of living legend Lou Ferrigno. By David Robson.

Lou Ferrigno's Guide To Personal Fitness & His Life Story - Buy "Lou Ferrigno's Guide To Personal Power, Bodybuilding, And Fitness" - Printed Soft Cover Book. A must-have collector's item. Get yours today!